Beautiful Emma Grace is seen here in this picture sucking on a pacifier while being held by her new mom.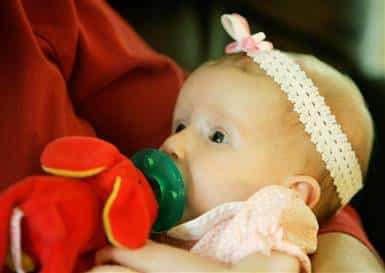 This amazing baby is now part of a family that loves her. Sadly, her life wasn't always this stable.
Born two weeks early on Monday, March 24 at 6:18 p.m., Emma weighed 4 pounds, 7 ounces, and spanned all of 16 inches.
At birth she was given up with her '23-year-old birth mother, a drug-user, smoker and drinker who knew she could never care for the baby'.
Just after she was born Emma was diagnosed with a heart defect that would need to be corrected by surgery and followed up with lots of therapy.  Even though another couple stepped in and decided to adopt her, they backed out when they learned of her heart condition and of their own pregnancy by in-vitro fertilization.
Knowing that she was parent less and facing a enormous surgery, the nurses in the NICU stepped in and gave this special baby the love and care she needed in the days leading up to her surgery.
It was then that cardiac surgery nurse Daniel Monroe, realized that Emma could be the one thing his wife had wanted her whole life.
The couple already had a little boy, 5, but they couldn't seem to get pregnant a second time and they desperately wanted a baby girl.
Elizabeth and Dan Monroe called the birth mother's attorney the day after Emma's surgery and made their desire to adopt known. They sent a letter, explaining their backgrounds and professions. Within one day the birth mother accepted their adoption and the baby was theirs.
The Monroes know it isn't going to be easy. They were reminded of that soon after Emma's surgery, when she bled into her brain. It's a common problem for premature babies because their vessels haven't had time to fully develop and can rupture easily. So Emma got another piece of hardware: a shunt to relieve the pressure in her brain.

"We are 100 percent, totally committed to this child," Daniel Monroe said, "regardless of what comes at us. I truly believe that God has put her in our path because we can make a huge difference in her life," said Elizabeth, who plans to take at least a year off from work to focus on the baby.

"There's going to be a lot of moments, hard moments, we know that," she said the day Emma was finally leaving hospital in late May. Elizabeth, having spent the night there, was running on two hours of sleep. "God will never give us more than we can handle."
This family deserves every moment of happiness that they get. I hope that Emma grows up to defy all of the odds she has been given.
---
[ad]