The reason Elie-Mae Wolfenden is alive today is that someone donated an organ that saved the cancer-stricken girl's life when she was barely one year old. Even as their daughter turns three, Elie-Mae's parents celebrate her birthday twice a year marking the day of the operation as her second birthday.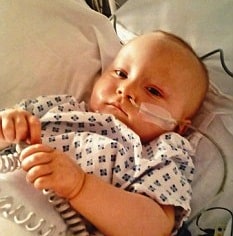 In June 2009, Karen, Elie-Mae's mom noticed a swelling in her stomach and took her to the doctor. After examination, she was immediately referred to the hospital for a scan and it was found that the baby had a mass on her liver.
Karen and her husband Carl from Tytherington, near Macclesfield, Cheshire were told that their baby had stage four hepatoblastoma and cancer had spread to her lungs. Within days she was undergoing chemotherapy to destroy the cancerous cells.
Karen said, 'We didn't think she was going to make it, we just thought it is going to go everywhere, but they were very hopeful.'
Elie-Mae was put on an urgent donor list in August. Eight weeks later the call came from St James' Hospital in Leeds at 1 am on October 14, 2009.
Karen said, 'We were waiting every day for the phone to ring. When it came I was in bed and I missed the first phone call. But it rang again, I just knew who it was and I couldn't quite move fast enough, I couldn't find the phone. My heart was going and I was rushing around telling Carl to get the suitcases in the car.'
The family had been contacted for a liver of a 37-year-old man up for donation. They had to wait another 9-10 hours to ensure that it was compatible.
'When we found out, it was a weird excitement because we thought we'd never find one.'
Only half of the donor liver was sufficient for Elie-Mae. The other half was used for another patient.
Karen said, 'I asked where the liver had come from because I didn't like to think of another child dying, but it was actually from a 37-year-old man. People think it has to be from another child but it doesn't, the liver will grow with her. They cut a bit off and put it inside."
The operation was conducted in October 2009 and the baby girl went home in January 2010. She still has to take immune-suppressant drugs, but has made full recovery. She is now keen to take part in the British Transplant games to be held in Kent and is looking for a £300 sponsor.
Her parents are now encouraging others to donate their organs.
'It must be very hard for a family if a loved one has died. But it saved Ellie-Mae's life," says Karen.
She added,
'Ellie-Mae was a little behind at first with things like crawling because of how much time she spent just in a cot. But now she just loves running around, which is why the games would be perfect. We really want to raise awareness of the fact that we need more donors and just how much it changes someone's life, so that they can go on to lead a normal life.'
A spokesman for Leeds Teaching Hospitals said, 'The liver is a versatile organ and as Ellie-Mae's case shows it is perfectly possible to transplant a portion of an adult liver to save the life of a very small child. Ellie-Mae is living proof of the effectiveness of organ donation and it is something we would urge every family to talk about and agree their wishes with their loved ones.'
Hopefully, more adults will take up the cause to save more such precious lives.
Related Articles:
---