She received a lot of grief for continuing her Cross-Fit training while pregnant, but Lea-Ann Ellison delivered a "perfect," beautiful and healthy baby boy on November 7th. Now that it's all over, she says she wouldn't have done anything differently.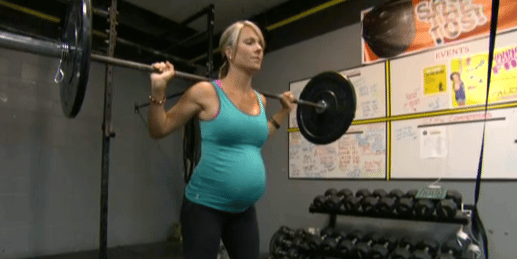 "You know, there was a lot of criticism that I was doing my workout program for myself, and that it was selfish to be doing this. I was doing this for the labor and for the delivery, and mostly for the recovery," Lea-Ann told Inside Edition. "The ones that really bothered me were that I was selfish for continuing my workout program, or stupid woman, or you're going to miscarry your baby or injure your baby. To me, that was, like, it's just so stupid. You don't know me. You don't know my capabilities."
Those capabilities kept her working out, right up until the week of her delivery. Her last workout had been on Monday, and on Thursday, she went into labor.
"I worked out on Monday, and I just knew that this was going to be my last workout that day," Lea-Ann said. "I thought, 'Okay, I completely Rxed this workout, and it was my last workout, and now this baby is going to come.' So he was born on Thursday. So Monday was my last workout."
On The People's Chemist, her husband shares the family's amazing birthing experience – everything from that text letting him know that it was time, to he and the couple's two other children gathering around the birthing tub as Lea-Ann held Skyler Kyle Ellison.
"I was home in three minutes flat," Lea-Ann's husband wrote on his blog. "One look at Lea-Ann bearing through another contraction, I knew it was go time….I yanked out the hose and adapter, air pump, tub and slip cover. I left a sloppy trail of water down the hall – from my test run a few weeks earlier…the tub was ready in seconds. I hung towels neatly over the edge. Organic, Egyptian cotton sheets awaited mom post-birth."
Within minutes, midwives arrived. With Lea-Ann in the birthing pool and her family and midwives surrounding her, the contractions reached three minutes apart. And then, as it came time to deliver little Skyler, "time stopped."
"One minute I was soothing the kids, the next I was ready to jump in the tub to hold baby's head as it transitioned into our world. Then in another frame, our baby was stuck to Lea-Ann's chest like flung paint. I froze, waiting to hear a victory cry," Lea-Ann's husband wrote. "At first glance, I was sure we had already met, on an emotional level. I felt like I was home. It was like a memory that's felt, not remembered. Our newborn was all of us, in one. A cough came, then a cry followed. Victory!"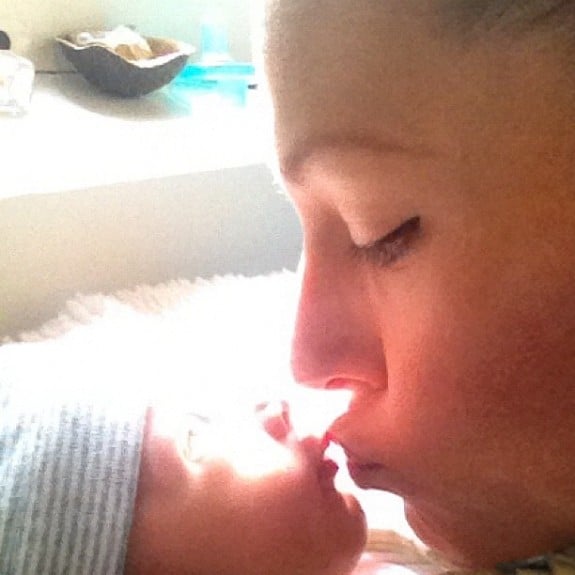 As beautiful and amazing as Lea-Ann's husband describes the entire birthing experience, we learn more than just how the couple handles the delivery process. We learned who they are as parents. They shared the entire experience with both of their older children, Blair and Lily.
On her Facebook page, Lea-Ann shared how she felt about the birth, just hours after first setting eyes on little Skyler.
"What can I say? There are no words to describe what it feels like bringing a life into the world in the most gentle way I could imagine," she wrote. "Skyler Ellison was born gently into my own hands at home in the water at 3:44 pm. Haven't weighed him or measured yet as he hasn't left my arms. Thank you in advance for your well wishes."
As she explains her birthing experience and her first week of recovery to Inside Edition, it would seem that Lea-Ann received exactly what she'd been hoping for with her vigorous, but obviously safe for her workouts.
"So today I am eight days postpartum. I've not missed anything. I birthed him, and I was up cooking the next day. I have felt so good. His delivery was very easy compared to the other ones. They were easy too, but when it all came down to it, he moved along so fast. There was not much pushing, and I could do it basically unassisted as my midwives stood by and watched, and I got to do it all by myself and bring him up and love on him right away," Lea-Ann said. "Obviously, nobody was injured," Lea-Ann said. "He is totally perfect, and out of all three kids that I've had, he's the easiest, most chilled, relaxed baby that I could ever even hope for. All his stats checked out. His heart rate was perfect, he's the perfect color, perfect eating, perfect everything. He's just a perfect joy."
But a wonderful birthing experience and beautiful baby boy weren't the only benefits to Lea-Ann's amazing dedication and hard work; she also has the fact that she's inspired many other women – women who have worried about how much activity they can or cannot participate in during pregnancy.
"The input from other women saying 'thank you for showing us that we can still do this and we don't have to sit on the couch and be lazy for nine months,' that made me feel so good, that I could have that impact on other people," she told Inside Edition.
So when will she get back to working out? She tells Inside Edition:
"When the day is right, when everybody is doing good, and he's well-fed, it'll just be a day where I'm like, 'I think today I get to go to the gym,' and then I'll go."
Congratulations to the family, and especially to Lea-Ann for sticking to her guns and doing what was best for her, despite the pressure and judgments.
*Please note: You should always discuss your workout routines with your physician, and you should never start a new workout routine without advisement of a physician or other health care professional.*
Related Articles:
---
[ad]