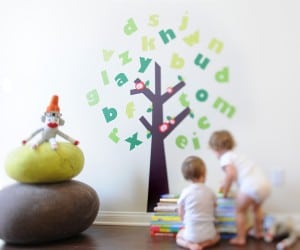 We've written about them before and because we love them so much we're bringing Pop and Lolli back again.
South African born Mia, created Pop & Lolli shortly after receiving the joyful news that she was expecting her first child.
Mia says that "with a desire for GOOD design, highly appreciative of (multi)functional products, and a flair for laughter and fun, I was at a loss of what to do in my little girl's very first room of her own! Scouting the world wide web for days in search of the ultimate nursery décor produced nothing awesome. Nothing extraordinary. Nothing fun. And nothing funky."
She believes in impact. And wants to make an impression, her designs are as she pictured in her dreams – funky and fun, playful, cheery and colorful.
The Pop and Lolli collection features such a unique array of wonderfully modern & cheery graphics.  You'll be surprised to know that their wall decals are actually fabric!  They are all removable, reusable, and repositionable!
Pop & Lolli fabric decals are made in the USA using nontoxic materials — they're PVC- and lead-free and the adhesive is water based. And when you browse the collection, each set is cuter than the next and can easily be mixed and matched.
The decals are true to the color and cuteness conveyed on the website and they're durable — the stickers do not easily tear or stretch as some vinyl ones do.  The fact that they can be easily removed and reapplied makes them a great option for themed overlays during special occasions such as Birthdays, Halloween and Christmas.
In short, Pop & Lolli's wall art not only offers a stylish and fun décor solution for parents, but they're perfect for ever changing little minds – and guaranteed to add a huge dose of whimsy & color to any nursery, kids room, or party space!
---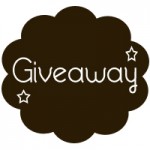 GIVEAWAY:
Pop and Lolli is offering ONE Growing Your Baby reader the opportunity to win a $100.00 Gift Certificate to their shop!
Congratulations to our winner: Stacy
**Please note, Giveaway is to be used for any Pop & Lolli purchase made on Etsy and does not include shipping, coupon will only be valid for 30 days after given to the winner, and the full value needs to be redeemed during checkout or the remainder of the balance will expire. **
---