A woman and her grandchild are lucky to be alive after the van they were traveling in plowed into a construction vehicle and burst into flames.
Construction worker, Chad Worthington was parked in his truck on the bridge that connects Oregon and Washington, early Thursday morning when he looked in his mirror and saw a van flying up behind him.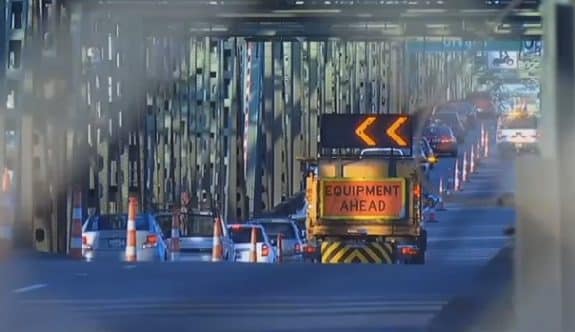 "I seen it coming up really fast as it crossed into our work zone, so I put my head back in the seat and relaxed and tried to brace for the impact because it was coming at me really fast," Worthington told FOX 12. "It was scary, seeing that car come at me at that speed."
Estimating the driver slammed into him at a speed of nearly 60 mph, Worthington heard a woman yelling when he got out of his truck.
"She started screaming, 'My baby, my baby, my baby,' and that's when I grabbed my phone, called 911 real quick, then all of a sudden the van caught on fire," he said.
While he and other workers from the electrical company grabbed fire extinguishers to try and put out the blaze, the driver started to go into shock.
"The mom of the child said, 'I can't handle this, I'm out of here,' and jumped the jersey barrier and started walking southbound on the bridge," he said. "She walked by another one of my co-workers, and she was just walking casually, like nothing ever happened."
With her mother and baby still in the burning car, workers used their fire extinguishers to break the windows.
Shortly after the grandmother was rescued, Worthington and his co-worker, Daniel, worked to free  the baby, who was secured in a car seat.
"I tried to reach my hand in to the front door because it was starting to be engulfed in flames and smoke, and it started getting kind of real. Like, that baby is in danger," he recalled.   "[I] grabbed the baby, pulled it out, handed it to Daniel and Daniel and the grandma walked away from the van and then a few – probably a minute, or a few minutes after that – the actual van exploded," he said.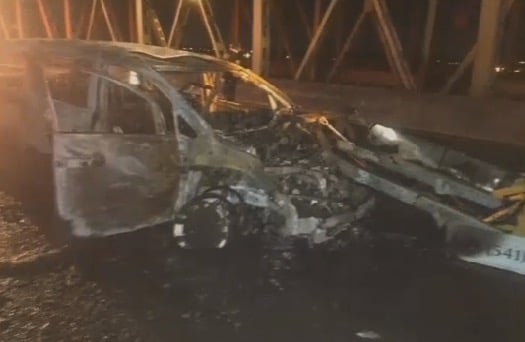 The grandmother and baby were taken away in an ambulance.
It's not clear where the mother went, and Portland police said the crash remains under investigation.
Worthington is still in disbelief the mother left the scene.  There is also no word on whether she was located.  Her family, he said is lucky to be alive.
"They're very fortunate to be alive right now," he said. "Very lucky."
---
[ad]