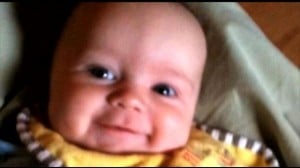 The guardian angels were definitely at work on Thursday keeping a baby safe.  Eight hours after a car crash killed his great grandmother,  rescuers found the 7-month-old alive and safe in the backseat of her car.
63 year old Waynette Cain and her great grandson Dakota were traveling south on Highway 139 in Cadiz, Kentucky Thursday afternoon when she lost control of her vehicle.
The car ran off the road, struck a tree and then landed in a creek bed.
According to Trigg County Rescue Chief Barry Fox, the family became concerned when Waynette did not return home on Thursday afternoon after running errands.
After they reported her missing, emergency crews searched for hours for the missing car, ultimately finding it in a secluded spot. The great grandmother was partially ejected and was pronounced dead at the scene.
The rescue crew then discovered the infant in the backseat. The 7 month old boy was responsive and alert. He was taken to the Triggs County emergency room and later released to the family.
"He was on the opposite side of the vehicle still strapped in his car seat," Fox said.  "He was just sitting there looking around. He wasn't crying or nothing. When we got him out of the car, he smiled at us like he knew he'd been saved."
For the baby boy it was indeed a very lucky escape.  The discovery was bittersweet, however, for the family.  Waynette's daughter, Lacie Thuman told reporters,
"Now me and my brothers have got to come down here and figure out what to do with everything because you don't get a chance to say goodbye, to say thank you."
---
[ad]