During their 20-week ultrasound, Jeffrey Holt and Gemma Moorby learned some devastating news; there was something wrong with their baby, Jasper. Problem was, no one really knew what was wrong.
"We were told that Jasper had problems with his kidneys and brain. It was devastating," Jeffery told North-West Evening Mail. "Days later, we had to go to Newcastle. It has been a total nightmare. We were initially told the baby had a brain development problem called lissencephaly. Subsequent scans showed that wasn't the case, and what was wrong was basically unknown. As well as the other problems, he also had a small jaw."
Unfortunately, the family was not given a prognosis for little Jasper; it wouldn't be until he was born that doctors would be able to get a clear look at what his condition entailed, or even, what it might be. So the couple went to months of appointments. They say that it was the maternity ward at Furness General Hospital and its staff that gave them the strength to make it through a very difficult, worrisome pregnancy.
"It was really refreshing to have such a dedicated and compassionate staff to deal with. You can't beat being at your local hospital," he said. "They made such a difference. They explained everything to us and have been great in helping us understand what was going on."
In fact, the Jeffrey says he is so impressed by the hospital and its staff that he can't imagine what it would be like if something ever happened to the maternity unit.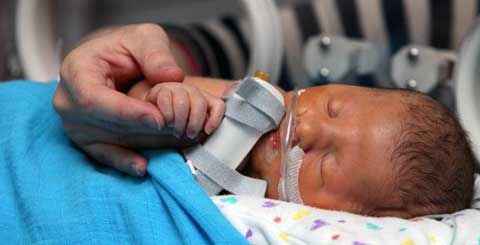 "I would be pretty devastated if we lost the maternity unit," he said. "It would have added so much more stress if we had to keep travelling out of town and couldn't just pop up to the hospital when we needed to. It would have made our nightmare so much worse. We can't thank them enough for their care."
Jasper is still receiving their care. Born via Cesarean, he has a number of complications that weren't detected or fully understood from the pregnancy scans.
"When he was born on Monday, his heart and kidneys were working fine but we he was put straight on a ventilator," Jeffrey said. "He has a cleft palate and his kidneys are shaped like a horseshoe because they had not separated."
The day after his birth, 5lb, 2oz Jasper went to surgery. Doctors had to reconstruct his lower abdomen. More complications have arisen since that time.
"He came off the ventilator on Thursday and a scan that night showed he had cysts on his brain," Jeffrey said. "He also had a bit of a setback on the same day and had to have a little bit of oxygen. Next week we will see the cleft palate team and he will have an MRI. We don't know how long we'll be here but as soon as he's comfortable enough, he will be moved back to Furness General."
But even now, days after his birth, doctors still aren't certain what's caused Jasper's health complications or what his future may hold. In fact, it would seem that Jasper's doctors have never heard of a condition anything like this one. They are still doing tests, trying to determine what his condition is. At this time, it is believed that the condition is caused by a chromosome defect. However, doctors don't really know what kind or which chromosome may be responsible.
"They have been doing lots of tests and it could be years before we find out what chromosome had been affected," Jeffrey said. "Doctors have said it could be that it is totally unique and have named it 'Jasper Syndrome.'"
Sascha Wells, head of midwifery for University Hospitals of Morecambe Bay NHS Foundation Trust gave an official statement regarding the care of Jasper and his family.
"We're very pleased that Jeff and Gemma were happy with the service we provided and we will ensure we pass their thanks on to all who were involved in the care they received as a family."
Related Articles: