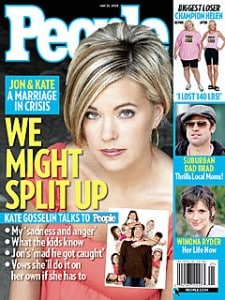 The saga of Jon and Kate Gosselin of Jon and Kate plus 8 rolls on…
In an exclusive interview with People Magazine Kate Gosselin admits that she and Jon 'have been privately struggling for months'.
Here are some highlights:
On first hearing Deanna Hummel's name:
"I don't know that we're in the same place anymore, that we want the same thing," she says quietly. "I've been struggling with the question of 'Who is this person?' for a while. I remember where I was the first time I heard her name. It's one of those things where you can try to make it go away, but there's blaring, red flashing lights."
On a possible split:
For Kate, who has referred to her husband as "my balance, my strength and my stability," to now consider a future apart has been heartbreaking but not impossible. "You can't imagine yourself in a certain position when all this first happens, but you can do it over some months," she says.

"It's a lot like when I was first pregnant with the babies, and it was pure shock and denial. But over time I imagined six cribs in my house, and six car seats. When your mind is ready to go there, you can accept any number of scenarios."
Kate does have hope, however, that her marriage can be saved. "I will never give up hope that every member of our family can be absolutely happy again," she says.
This really is a shame. I hope for the kids sake that Jon and Kate and get back on track.
I wonder if any of this will appear in the season premier next week…
---