According to a new statement from TLC, the network is officially canceling the Duggar Family reality series "19 Kids and Counting".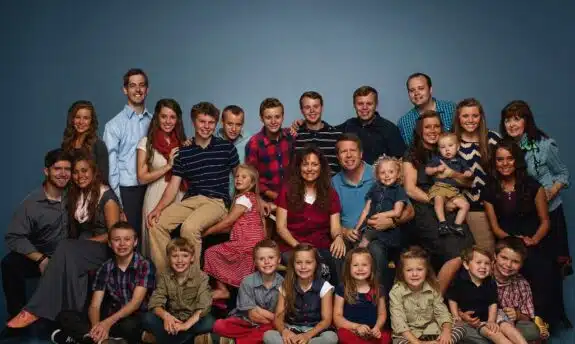 'The show will no longer appear on the air,'  TLC said on Thursday.
The move comes almost two months after it was revealed that oldest son Josh Duggar had sexually molested five young girls, including 4 of his own sisters, Jill and Jessa, when he was a teenager.
In June, Michelle and Jim Duggar broke their silence during an interview with Fox News' Megyn Kelly, but they were unable to undo the damage that had been done.
"There so much grief in our hearts. I think, as parents, we felt, 'We're failures,'" Michelle said during that interview. "We've tried to raise our kids to do what's right – to know what's right – and yet one of our children made some really bad choices and I think, as a parent, just, we were devastated."
Many, however, were shocked that the family covered up the allegations, and didn't go through the proper channels to have their son treated professionally.
Shortly after, both Jill and Jessa came forward to defend their brother.
"I think in the case of what Josh did, it was very wrong. I'm not going to justify anything that he did or say it was okay. It's not permissible. But I do want to speak up in his defense against people who are calling him a child molester or a pedophile or a rapist," Jessa explained. "That is so overboard and a lie, really."
Jessa went on to say they didn't care if the show continued to film.
"Life goes on, really. We're not a TV family. We're a family that just happens to be on TV."
The news of the show's cancellation doesn't come as a surprise considering TLC pulled "19 Kids and Counting" from its schedule shortly after the molestation allegations came to light.
During their statement the Network said,
"The recent attention around the Duggars has sparked a critical and important conversation about child protection.
Over these past weeks, TLC has consulted regularly with leading victims' rights and advocacy organizations in the U.S., including RAINN and Darkness to Light, to discuss how to use this moment to address the issue and make a positive impact. Unfortunately, child sexual abuse is not an isolated issue; it affects many children and families around the world. To that end, we are partnering with both organizations on a multi-platform campaign to raise awareness and educate parents and families about the issue. In the first phase of this initiative, TLC will work closely with both groups and with the Duggar family on a one-hour documentary that will include Jill and Jessa and other survivors and families that have been affected by abuse."
Shortly after the news of the cancellation was made public The Duggars issued a statement saying they were thankful to have done the show for the past decade.
"With God's grace and help Josh, our daughters and our entire family overcame a terrible situation, found healing and a way forward. We are so pleased with the wonderful adults they have all become.
It is our prayer that the painful situation our family went through many years ago can point people toward faith in God and help others who also have lived through similar dark situations to find help, hope and healing, as well.
We appreciate the love, support, prayers and kindness extended to us by many of you. You have deeply touched our hearts and encouraged us, during this time."
---