I have been covering mega multiples for a couple years now because the whole subject amazes me.
In that time we have seen a mom have triplets twice, a mom have two sets of identical twins at the same time, 2 moms welcome sextuplets on the same day, identical triplets, identical quadruplets and the amazing birth of the Wilkinson quints.
Today is a new milestone because a mom in Maryland welcomed a rare set of quads that are comprised of identical triplets plus an extra.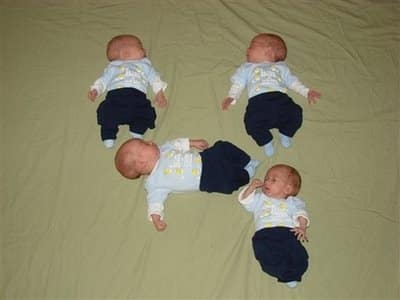 The babies, know as "3 +1" arrived by caesarean section on Jan. 29, their mother's 32nd birthday. Joshua Drew was born first, then Gavin Michael, Cody Benjamin and finally Logan Christopher, the non-identical one, hospital spokesman Michael Schwartzberg said.
The boys were born 11 weeks premature in January at Greater Baltimore Medical Center in Towson.

There are fewer than 100 documented cases of "identical triplets plus one" in the United States, hospital officials said.

The babies were treated at the hospital's neonatal intensive care unit, and all four have been home in Belcamp for about 2½ weeks, Schwartzberg said.

The parents plan to introduce themselves and their boys at a news conference Friday.
I hate that the non identical quad is constantly referred as the odd man out. Poor guy is going to get a complex…
The babies mom was implanted with two embryos, and both were fertilized. One of them split, then split again, creating the identical triplets.
Related Articles:
---
[ad]