It was in the early morning hours of January 29, when Police Officer Mauro Enrique Vera Suarez was, suiting up at the station, when tragedy struck. Throughout the station, a large shock-wave was felt, almost as if an earthquake had struck. But in reality, a nearby maternity hospital had been leveled to the ground from a natural gas explosion. Suarez wasn't even fully dressed when he hopped into his squad car. He said, "We left as we were," rushing headlong into the explosion site to try and save as many lives as possible. The hospital was receiving a delivery of gas, and cautious neighbors were able to smell a leak minutes before the fuel ignited. While the hospital had already begun evacuating, over one hundred people were inside Cuajimalpa Materna.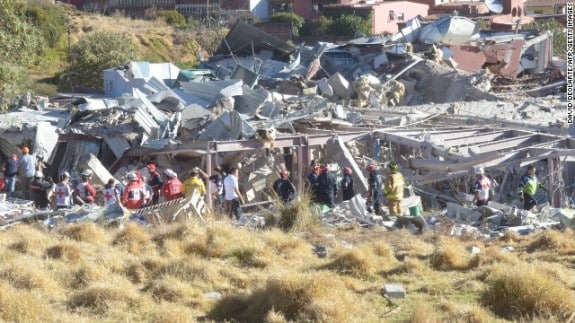 l Hospital at approximately 7 a.m. – only mere minutes before the hose on the truck supplying fuel to the building had burst. When officer Suarez arrived on scene, the site that beheld him was terrifying, bloodied infants and their mothers, and medical staff screaming for help, amongst the rubble of twisted metal and crumbled concrete.
Suarez wasted no time in searching for any survivors. He began turning over a piece of a collapsed roof to check if there were any victims. He recalls the moment vividly, "I saw a sheet that was moving very slightly. Picking it up, I saw that the baby was face down with its head and knees in the rubble. He had small wounds. He had scrapes. What I did was just wrap him up and pick him up and leave running." Suarez held tight to the baby with his left arm, while signaling with his other hand for other colleagues to head inside and help more of the injured. Suarez said, "My first feeling was to do the work any human being would do – to take out the injured. Everything else you block out."
Just as Suarez was bringing the baby out of the rubble, someone with a camera had snapped a powerful photo of him, as he jumped over crumbled pieces of the debris.
https://twitter.com/SSP_CDMX/status/560960978645688321
When Suarez found the paramedics, he immediately handed off the baby to them, grabbed a nearby stretcher and ran straight back into the rubble to search for more victims. When asked whether or not he was thinking about his own children during the tragedy, he said, "The only thing on my mind was to do the human thing. At that moment you don't remember if you have a family, a mother, a father, children or a wife. You concentrate on helping. I wasn't the only one to go in there. My colleagues also rescued victims."
Along with the photograph of Suarez, a public safety official tweeted out this message, "'I would like to know what happened with the baby. Our work is to save lives,'" says Mauro after rescuing a baby from the explosion." When Suarez was asked about the tweet he replied, "Yes, I would like to know that he is ok, the baby."
Later on that evening, Armando Ahued, Mexico City's health secretary spoke to the media about the tragic events of that day. He said that along with a nurse and a baby girl who was only a few weeks old, that a third victim perished overnight from injuries sustained from the blast. The third victim was the child that Suarez risked his life to save.  "It was a baby that had …. a very serious fracture in its head, and unfortunately died," Ahued said.
Ahued also said that 39 victims are still hospitalized, with 18 of them being listed in critical condition, almost half of them being infants.
One of the patients in critical condition is a baby, who has suffered burns on more than 80% of her tiny body. Officials are saying that she may be transferred to Texas for more specialized care. Another victim is a nurse who outright refused to leave behind her newborn patient in the critical seconds of evacuation before the explosion occurred. She is currently on a life-support system. The nursing supervisor reached out to her husband after the blast. She recalls the feeling she had, saying, "I am still a little bit in shock. It was a nightmare."
Three people were arrested Friday in connection with the gas leak. The truck driver and his assistants were identified as Julio César Martínez, Carlos Chavez and Salvador Alatorre. Two of the men in custody remain hospitalized, while the third one, with injuries far less serious, had been examined at a local hospital. The charges against the men were not readily available, though an investigation will be conducted to see if negligence was to blame.
---
[ad]