When Hamima Juma gave birth to her oldest daughter, Maheera, on Christmas day, 2009, she knew she'd received a Christmas miracle. But when she welcomed her second daughter on Christmas day three years later, she knew she'd beat some remarkable odds.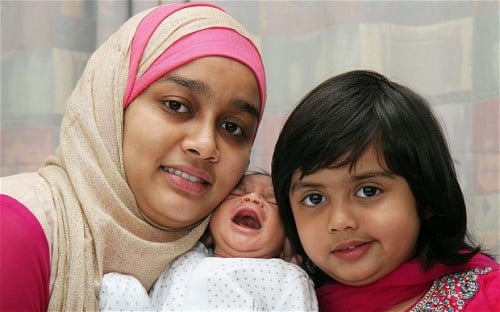 "I used to joke with my friends that this baby would come early on Christmas Day again. But that was only supposed to be a joke," Hamima told Daily Mail UK. "Once I went into labor, my husband was willing the birth to be before 12 o'clock."
Both of Hamima's girls had December 19th due dates. Both arrived six days after their due dates. The only difference in their births is the three year difference and the time of day they were born. Maheera was born at 9:05 am on Christmas day, 2009. The newest baby, who has not been named yet, was born at 10:30 pm on Christmas day, 2012. Even the girls' birth weights were surprisingly close. Maheera weighed in at 5lbs, 12oz and the newest baby was born at 5lbs, 11oz.
Maruf Juma, 33, says that the family was busy celebrating Maheera's third birthday at the family's home in Coventry when Hamima's contractions began.
"We had my sister who is a student midwife on a stand-by because we knew what happened a couple of Christmases before. So when she went into labor, we were in safe hands to start with and we got Hamima straight to the hospital," Maruf told Daily Mail UK. "I was praying for another Christmas baby – it's brilliant. Next year will be mad now. We'll have two birthday parties and a Christmas party to organize. But we wouldn't want it any other way – we've had a couple of Christmas miracles there and we feel truly blessed."
Bookmaker James Desmond, who helps calculate betting odds, says that the couple really did hit the Christmas birth "lottery."
"It is a long shot to have a baby on Christmas day, a one in 365 chance, but to have two born on Christmas day years apart puts the odds up to a phenomenal level," Desmond told Daily Mail UK. "We would give you 133,225-1 chance of this happening if you came to put a bet on with us."
Related Articles:
---
[ad]