September is Baby Safety Month, and this year the B'More for Healthy Babies project in Baltimore is warning parents that the safest place for a baby is in a crib. The project is using real mothers to help drive home their warning.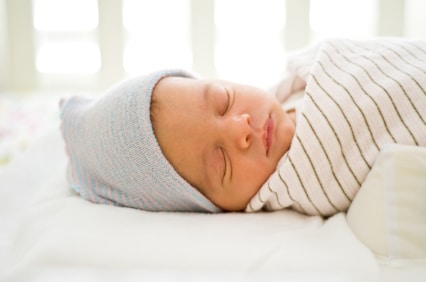 Dearea Matthews is one of the mothers involved in the B'More for Healthy Babies project. She lost her infant son, Charlie, when he was only 1 month old due to unknown causes. Matthews had co-slept with her older children, just as several members of her family had done with theirs. According to Matthews, even her doctor had co-slept with his four children. The cause of Charlie's death has not been determined, however Matthews is certain that co-sleeping is what is to blame. She hopes her voice will help encourage other parents to use a crib instead of their beds.
Last year in Baltimore there were 27 infant deaths due to unsafe sleeping conditions. These include infants becoming smothered by blankets and toys, laying on their stomachs, choking, or being laid on by a sibling. According to the health officials, sudden infant death syndrome (SIDS), formerly known as crib death, is far less likely to happen to babies properly positioned for sleeping.
The campaign for safer sleeping will cost $7.5 million in federal, state and private sources such as the Juvenile Products Manufacturers Association (JPMA). Videos for new mothers in local hospitals, signs on buses, radio ads and even door-to-door information are all being planned to increase awareness of safe sleeping for infants. Dr. Gena O'Keefe, the group's director of healthy community initiatives, says the plan is to reach new mothers, families, caregivers, and everyone that is a part of a new baby's life.
"It's about changing people's behavior," she said. "To do that, we have to get out there in their community."
Matthews says she had a crib for her son, but sometimes let him sleep with her and her husband. When he did not wake up one morning, she was devastated. Now she hopes being a part of this campaign will help another family from facing the same thing.
"I thought it was better," said the 25-year-old North Baltimore mother. "I was afraid if he was in his crib he'd choke and he'd be alone. This way he'd be close. And he'd be comfortable near his mother."
For more information on Baby Safety Month and safe sleeping for infants, visit the Juvenile Products Manufacturers Association website. – Summer, staff writer
Related Articles:
---