Vaccination has been a hot-button issue for quite a few years now. Many people, from parents to medical professionals, to celebrities and more have very strong opinions about it. The media often is quick to jump on the opinion's of the latter. As a result of that, many parents are hesitant to vaccinate their children, or even flat-out refuse. A new study reveals that this happens because of a communication divide between healthcare providers and parents.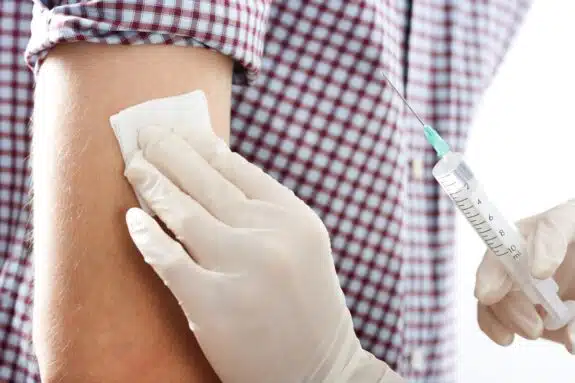 The new study, published in the Journal of Risk Research, and performed at the University of Haifa, School of Public Health suggests that even those parents who are not labeled as "vaccine refusers" and who typically comply with a normal vaccination schedule may be hesitant or even refuse to vaccinate their children because of poor communication from their children's healthcare provider, in addition to concerns about the vaccine's safety.
The study was performed by Dr. Anat Gesser-Edelsburg, Dr. Yaffa Shir-Raz, and Professor Manfred S. Green, and looked closely at parents' refusal or apprehension to vaccinate their children, following the polio outbreak in Israel in 2013. While there were zero clinical cases of paralytic polio were recorded during the outbreak, the Israeli Health Ministry took steps and launched a campaign to make certain that children under the age of 10, who had already been vaccinated with the standard inactivated polio vaccine, be given a bivalent oral polio vaccine, which was created to protect other people who were not previously vaccinated.
While the rate of kids who were vaccinated during the campaign was relatively high, the results of the findings show that for the first time, parents who are not "vaccine refusers," and who typically comply with scheduled vaccine programs, actually hesitated or flat-out refused to vaccinate their children. One-third of the parents who were surveyed, that were apprehensive about vaccinations shared that the safety of the vaccinations was a concern and that any information provided by the Health Ministry, or an explanation as to why the vaccine was necessary, was not enough to convince them.
Over a third of all those surveyed communicated that they strongly disagreed that information provided the Health Ministry was comprehensive and clear. Nearly 28 percent of those parents who had their children vaccinated mentioned that they did not really understand that the purpose of the vaccine was not to protect their own child. Those researchers suggested in the long term, that this perceived doubt in their communications with healthcare providers could easily cause a mistrust of the healthcare system entirely. This same theme recurred in the study's analysis of 35 of those who responded to the survey that had refused or were apprehensive about vaccinating their children.
The findings of this study just prove that transparency and credibility are extremely important in health communications. The Health Ministry said that the OPV vaccine had 'zero side effects.' However, findings show that these claims were interpreted as disrespectful to the public and not credible. The researchers suggest that in future instances that risk-communicating organizations should 'expose the dilemmas, communicate facts, and 'talk science' to everyone, but especially in times of doubt and uncertainty.
---