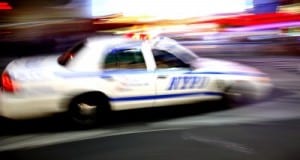 Two NYPD officers took no chances after they received a call for help from a mom with a dying baby. They took charge of the situation and saved the baby's life.
Officers Eric Sorensen, 35, and Brian Dennis, 47, were both assigned to the 30th Precinct when they were called at the McClaskey home at West 148th St. and Amsterdam Avenue in Hamilton Heights.
Chinese McClaskey had called 911 for help when her baby daughter Zoe had stopped breathing.
The mother panicked so much that by the time the officers arrived at their home, she had already taken a cab with her teenage son and baby in the arms and left for the hospital.
The officers soon realised the situation was serious and they chased the cab.
Recounts Dennis, "The mother was in the back seat with the baby in her arms. She was panic-stricken."
Not leaving the situation like that, the officers immediately took control. They shifted Zoe into the patrol car and while Sorensen was driving, Dennis began reviving her.
They found that the baby had gone into a cardiac arrest and was lifeless.
"I started doing chest compressions and mouth-to-mouth resuscitation. A minute later the baby's heart had started beating, but she still wasn't breathing." said Dennis
Other patrol cars in the neighbourhood stopped traffic at all crossings as Sorensen made his way to the St. Luke Hospital.
"The dispatcher put the hospital on notice that they were going get a baby in cardiac arrest," Dennis said. "As we turned onto 113th, the baby vomited and started breathing again. We pulled into the ambulance bay, and two detectives went into the emergency room screaming, 'Emergency! Emergency!'"
At the hospital Zoe began crying again and doctors assure that she is going to be alright. They later found out that the baby had a breathing problem because of a sudden bout of acid reflux that induced vomiting and got in the way of her breathing.
Chinese recalls the incident like a movie scene. She says, "We are really grateful, it was like a movie."
Cory McCaskey the baby's father has more words of praise for the quick thinking officers.
"I was so relieved that she was safe, and that the officers got her here breathing. This was one of the times that the police really stood by CPR — courtesy, professionalism and respect."
Related Articles:
---
[ad]