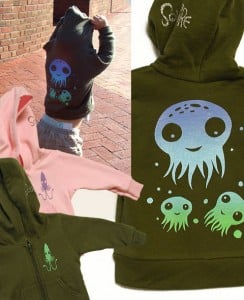 Squidfire creates funky hand-printed t-shirts, hoodies and onesies for babies and kids. The brain child of Jean-Baptiste Regnard and Kevin Sherry, Squidfire presents clothing that provides an alternative to things found in shopping malls and larger chain stores.
Each design is carefully hand-drawn, and each t-shirt or onesie is hand-printed, making them all little pieces of wearable art! The prints are so varied, ranging from a four-colored unicorn on a navy background to kids on bikes on an oatmeal colored t-shirt and a bright green deep-sea squid family on a black t-shirt, that there is bound to be the right one for every child!
My personal favorite is a toss-up among the purple giant octopus t-shirt, the 'paleontology' dinosaur bones or the world dominating squid…because every kid needs a t-shirt with a world dominating giant squid!
In an age where big store just seem to be getting bigger, it's nice to find some t-shirts that are still truly original! – Belinda, Staff Writer
---
Related Articles:
---
[ad]