A big concern for parents is chemicals; harmful levels of substances like lead, cadmium, phthalates and dangerous dyes. Looking to introduce a product that was safe, but challenging, Katarina Hornwall and Gabriella Rubin created Snego while they were studying their masters at Lund University School of Industrial Design in Sweden.
Snego's pieces are made of birch, oak and pine as well as various donated and dumpster-dived wood. But the best part is that they are coloured naturally with blueberry, wine, red cabbage, turmeric, beetroot, lingonberry, and red onion peel. Each piece is then finished with beeswax and olive oil to set the hue.
"The colour recipes and the design principles for the blocks come from hours of experimenting and playing," Gabriella Rubin told Dezeen. "We wanted to add some colour to the blocks, and got inspired by the old craft of dying textiles with natural ingredients. We think it is important to keep the colours natural as it works well the overall idea and concept."
Each piece is carved with a gem-like shape, which makes them perfect for stacking on various sides.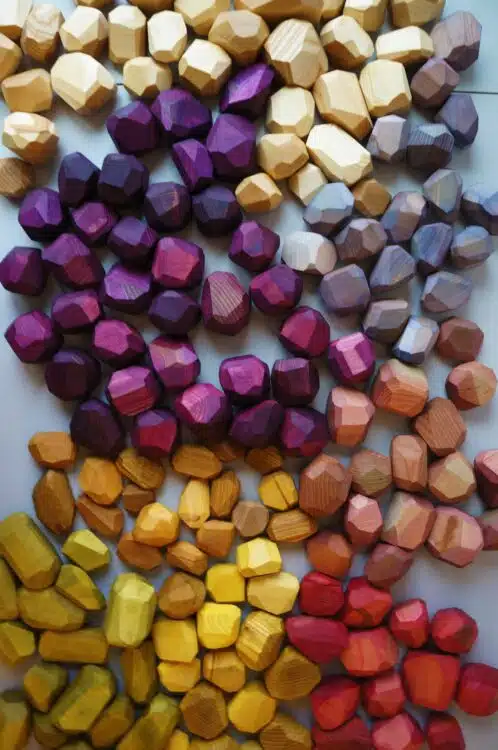 "Our thought behind Snego is that adults and children alike should have the opportunity to play without focusing on getting a specific result or something figurative," Gabriella noted. "There are no rules and no right or wrong usage."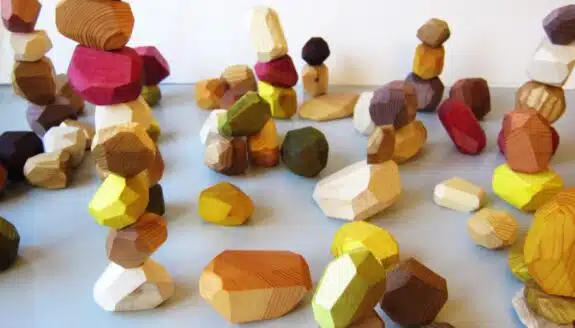 The blocks are in limited production. For more information, please visit Snego's website.