One of the biggest challenges for Shopkins fans is keeping their characters organized. With 145 Shopkins in each season, and all of the special edition collections, it is hard for kids to keep them arranged in a way where they know which ones they need and the ones they have multiples of.
For us, I have just been keeping the ones we open in our videos in plastic divider containers that I found at the dollar store. Not ideal, it was the best way to keep them all together until now!
I am absolutely in love with the new Shopkins Glitter Pop Up Shop Collector Case.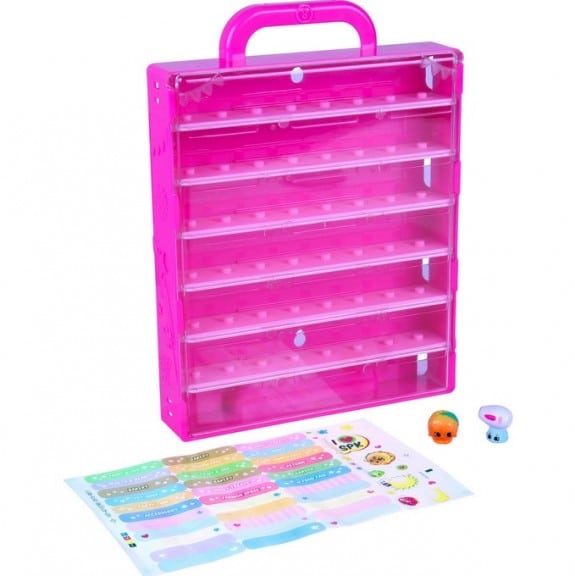 Shopkins actually sells 2 of these cases, one is blue and one is pink. The pink case, which retails for $20 comes with 2 exclusive Shopkins and a sheet of stickers. The blue one that we have is $5 more, but it includes 8 Exclusive sparkly Shopkins and a sheet of stickers.  It is more translucent and has pink shelves.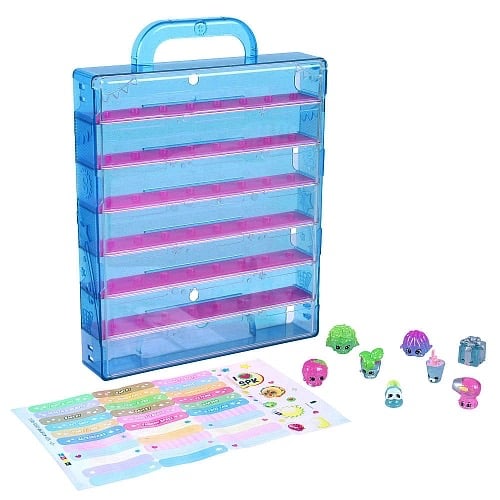 Both cases have little nubs on each row so that kids can move their collection around without worry about them getting all mixed up.
The cases can also be joined together on the sides/top and have a hole just under the handle to the whole set-up can be mounted on the wall!
Check out the Glitter Pop Up Shop Collector Case in action below
---
[ad]