I love to shop. I really love to shop. Around the holidays, however, I find it a chore. Getting to the mall, finding a spot, wading through the crowd. It can be frustrating. And while I could just get everything I need online, there is something about walking through each store checking out what they have that I like when I am buying gifts. Often I'll see something set up in a window that gives me some inspiration or a store will have a store on the floor that isn't available online…
Almost done, I headed to Toronto on Monday to see if I could find something special for my sister. One of my favorite malls to hit in the city is without a doubt – Yorkdale. Over the years this mall has been transformed into an incredible center that offers something for shoppers with all budgets. For the holidays the mall is also home to the Avion Holiday Boutique. Created for RBC's Avion Credit Cardholders, this exclusive lounge gives shoppers a place to relax and re-group.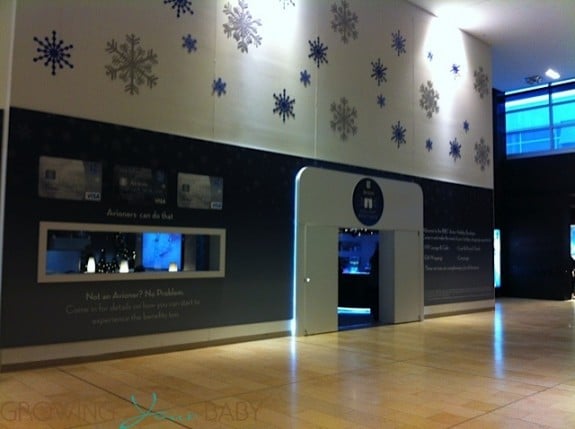 I don't have a card, but I was added to the guestlist for our shopping trip and it was fabulous!
First I have to say I was shopping with my 4-year-old. Of my two kids, he is the best one to hit the mall with but even he has his limits. A trip to the lounge, however, had him re-thinking why he hated the mall so much.
When we arrived at the mall we headed to the South lot where we parked our SUV in Valet Parking. One of the best perks of this program is not having to fight your fellow shoppers for a spot. Yorkdale offers valet for $15 a car every day, but for Avion members this service was free!
Once inside the mall, I started to hit a few shops but could see that my guy was wilting so I asked someone at the customer service desk where the lounge was and we headed over to get a drink and a snack.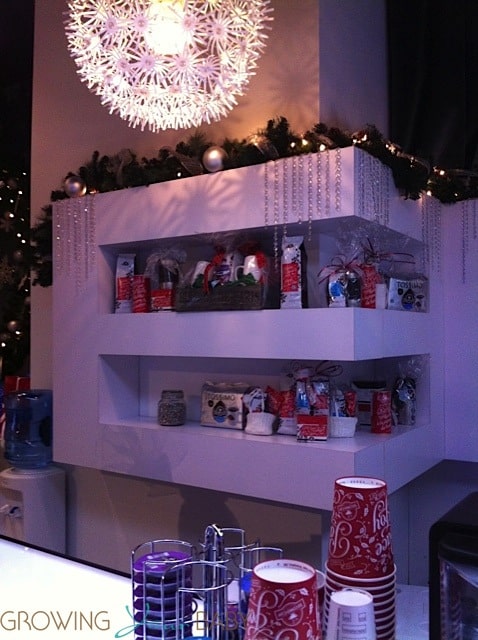 Not knowing what to expect, I was impressed when I walked in. It was like we had been invited to an exclusive club. The walls were draped in teal velvet curtains and covered in navy wallpaper with silver snowflakes. There were holiday decorations everywhere and even a white baby grand piano in the corner of the room.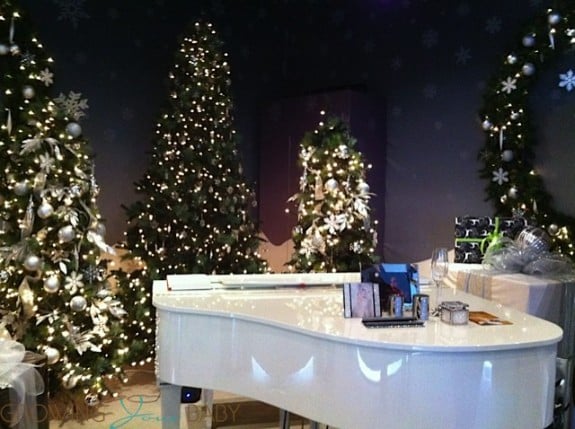 To the right, there was a beverage Cafe set up with single-serve coffee machines lined up, and a concierge desk on the left. I wanted to walk further into the room, but I was stopped by my guy who spotted jars with marshmallows, sprinkles, candy canes, and colored sugar on the counter of the bar.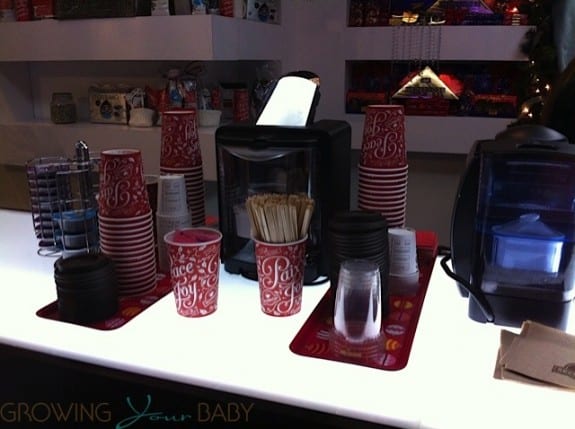 Noticing him, the barista immediately asked him if he'd like a hot chocolate. His eyes lit up. Then he got to choose between creamy, white, or peppermint. Now he was smiling from ear to ear. After she made it up for him he added some sweets from the counter and sat on his stool as happy as a clam. I grabbed a hot cup of tea and then we headed inside to check out the rest of the room.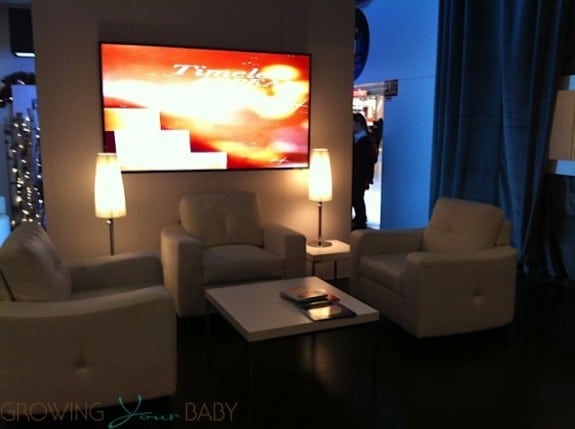 If you are an RBC Avion customer this service is a really nice perk for you when you are shopping this holiday season. On top of serving cappuccinos, hot chocolate, tea, and water, guests are offered shortbread cookies and Purdees hedgehogs to snack on. You can also check your jacket and have your gifts wrapped while you wait.
When we were there I heard one of the associates tell another guest that it would be about an hour to have their gifts wrapped, but they didn't seem to mind because they were sitting down after a long day of shopping.
A couple we met when we came in told me they had used the lounge many times while shopping for their family over the past couple of weeks. The wife noted it gave them a place to relax and then discuss what else needed to be done. She was on her second latte as they waited for their gifts to be wrapped.
I started to wish I lived closer… Trying to get ready for Christmas with kids in tow is always a bit of a mess. I always forget something and they are always asking when we can go home. Being able to stop in, have a warm drink, and just sit for a minute could be a game-changer.
Leaving the mall with wrapped presents reduces the stress on the other end.
I won't lie, I looked into what the RBC Avion card was all about when I got home. If they do this at Christmas, what are they doing the rest of the year? We also travel a lot so their points system for flights is something that would be appealing.
RBC is setting up their Holiday Boutique in four shopping centers across Canada. Shoppers in Vancouver can find the lounge at the Coquitlam Centre, the Halifax Shopping Centre in Nova Scotia, Mail Champlain in Montreal, and the location I visited in Toronto.
---
Disclosure – I am part of the RBC Avion Holiday Boutique Blogger Campaign with Mom Central Canada and I receive special perks as part of my affiliation with this group. The opinions on this blog are my own."[ad]