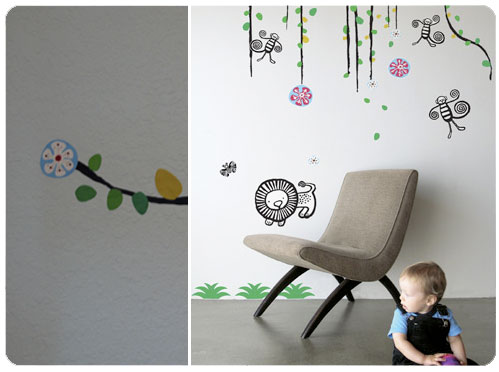 Bold, black and white, stylized animals are the central features in Wee Gallery's wall art series. Designed by a graphic designer and a teacher, there are 5 different sets of graphics to suit any wall; sea, garden, jungle, woodland and safari animals, each with their own unique terrain, compete for attention.
The decals are made of eco-friendly polypropylene, are self-adhesive and are fully removable without damaging paint! To redecorate a room, simply remove the decals to their original backing, paint the wall and then reapply the decals.
Wee Gallery Wall Graphics, as with all of their collections, are designed as "art that grows with baby". The high contrast patterns of the mostly black and white animals are important for infant brain development. By 3 – 4 months baby will pick out specific features of a pattern; the stripes on the raccoon's tail, or the spots on a giraffe. At 6 or 7 months baby will start to see the animal as a whole and for toddlers and older children the fun continues as they enjoy the stories that can be told using the animals on the wall. Each animal can have its own story, limited only by the imagination of the story-teller!
These quirky animals make a brilliant alternative to wallpaper border or painted murals! – Belinda, Staff Writer

---
---