UPDATE March 26th, 2016: The RCMP announced this afternoon that the body of Chase Martens has been found. "This appears to be exactly what we thought it was, a tragedy," RCMP Sgt. Bert Paquet said Saturday. The little boy's body was found in a creek about half a kilometre south of the home at 1 p.m. on Saturday, five days after he went missing. RCMP say there's no sign of foul play.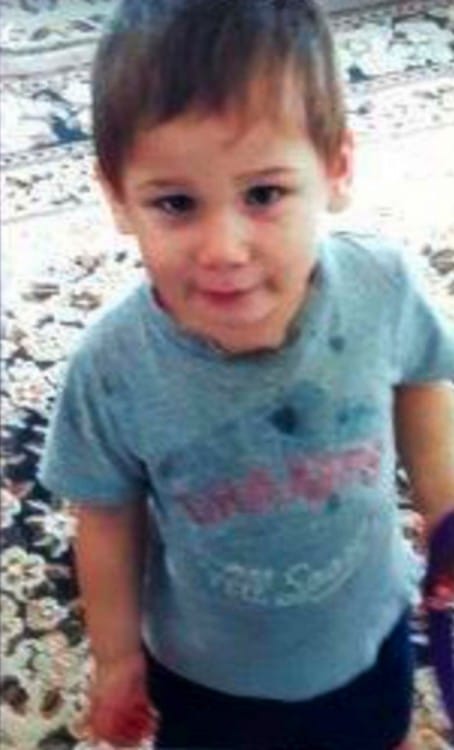 ORIGINAL Post: The RCMP is using every resource available as their search for 2-year-old Chase Martens heads into its second night.
The little boy was last seen around 6 p.m. Tuesday in the yard of his family home where he lives with his parents, Destiny Turner and Tom Martens, and sisters.
Chase had helped his dad load his truck before the pair went for a ride to the store.
He was dressed in his boots, splash pants, hat and mitts, as he played.  His mom and sisters were inside, where Destiny said she could see her son through the window as she got ready to make dinner.
She saw him head around the side of the house, and thought he was going to hop on a tractor parked outside the home, something he likes to do, but when she called him for dinner there was no response.
"He's outside all the time, and I will call him once and he'll go, 'What!'" Turner said, adding her son never strayed past a wood pile in their yard.
Destiny then started to searched the dirt road that leads to the house and scanned the surrounding fields. Panic started to set in, however, when she reached the main road, and there was no response.
She then ran back to her property where Tom was calling Chase as he searched the bush.
At this point it had been no longer than 15 minutes from the time she saw Chase through the window until they realized he wasn't there.
RCMP spokesman Sgt. Bert Paquet said Portage la Prairie RCMP were notified around 6 p.m. Tuesday Chase was missing.
Police and local fire department volunteers arrived immediately, and in just a short time 300 volunteers had shown up to help.
The couple joined in the search, but were discouraged when there was no trace of their little boy. "We can't even find a mitt or a footprint," Turner said.
On Wednesday, search teams used two planes and the Winnipeg police helicopter to scour the fields where the searchers walked slowly in a line looking on the ground for clues.
David Wall, Chase's uncle, noted the area has fields, trees and water.
"There's a lot of bush around there and a creek. There is running water and ice there. But we've looked along the creeks and so far we haven't found anything. No clothing or anything."
Wall said the creek, about half a kilometre away from the boy's home, was one of the first places searchers checked because there is a trail to it from the residence.
"His dad chops wood there so he has been there before."
Searchers also used horses, ATVs, and police dogs. 15 local fire departments, the Canadian Armed Forces, the local police and RCMP are all
"What you are looking for is absolutely anything," a search official with the Office of the Fire Commissioner told searchers who gathered outside Chase's home.
On Thursday afternoon, RCMP started sending out drones, to help search the area. Divers also searched the creek that runs through the property.
#rcmpmb divers now assisting w search for Chase MARTENS as creek runs through area. pic.twitter.com/KKgaNMGutn

— RCMP Manitoba (@rcmpmb) March 24, 2016
Sgt. Paquet said RCMP haven't ruled out anything when it comes to Chase's disappearance, including foul play, but they're main focus is finding the boy safe and sound.
Chase is 30 pounds with blue eyes and light brown hair. He was last seen wearing a blue jacket, black splash pants, a red hat and boots. "Little boots that light up as you walk upon them," Paquet said.
Anyone with any information, no matter how insignificant it might seem, to immediately contact police.
"We're looking for anything that will help us bring Chase home," Paquet said.
---
[ad]