For me, one of the toughest people to buy for is my son's teacher because I know that she'll be receiving a lot of presents and I always want ours to be useful. I also don't know her well so I don't know if she has any particular interests or hobbies.
Aside from giving gift certificates to a local restaurant, bakery, or coffee shop, you can always give gift cards to a book shop, or local spa.
Here are a few other ideas I have come up with.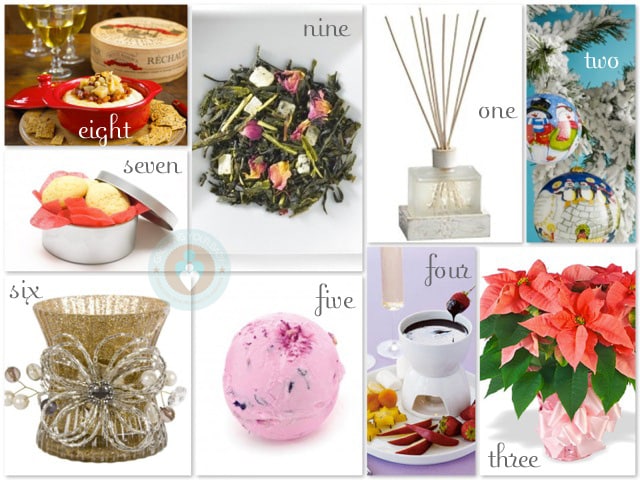 Reed Diffuser – A bit of a change from the standard candle and there are no hazards. I bought these for my son's teachers last year and they were a big hit. $20
Li Bien Hand Painted Glass Ornaments – I love these ornaments! Last year we gifted them to my son's EAs and helpers at his school. Each ornament is individually handpainted with a tiny brush on the inside of the glass, and each is dated the year it was issued. Plus they come in their own decorative box. ($10-$12)
A poinsettia – You can never have enough Poinsettias around the holidays. If I could I would fill my house with them. Grab one that is unique and finish it with a bow! $10
Chocolate Fondue – I mean who doesn't like chocolate and fruit? $15
Handmade soaps – Lush is my go-to store for really nice soaps. They have pre-made gift boxes or you can customize your gift by having the staff cut you a piece of soap and pair it with a bath bomb. I also like that their products are made fresh by hand using little or no preservatives or packaging and only vegetarian ingredients. You could get a chunk of soap, a bath bomb, and some lipgloss for $20.
A decorative votive holder – Specialty shops are full of decorative votive holders and they are a nice addition to a holiday table or mantle. $15
Baked Goods – If you have a cookie or square recipe that is a family favorite. Make some, put them in a nice box and have your child make a card to go with them.
Brie Baker – Whether she's hosting family or having a game night, a brie baker is a perfect gift. Simply place a wheel of brie inside, warm it up in the oven, and serve with crackers or toast. You can also add a package of brie toppers. $20
Specialty Coffee or Tea – Find out if your child's teacher enjoys a warm cuppa and pick up something special that they may not buy for themselves. $15
Related Articles: