A 17-year-old Pennsylvania mom is facing a charge of attempted murder after her 8-month-old baby girl was found abandoned outside in a white plastic bag earlier this week.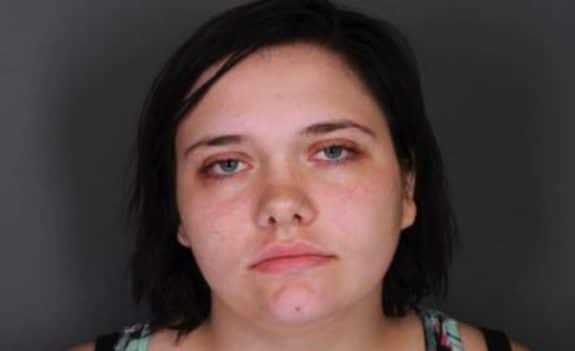 WENY reported two sisters, Kayla and Karen Seals, made the shocking discovery early Tuesday afternoon when they went to investigate noises they could hear coming from the bushes. Thinking it was a dog, instead they found a soiled 8-month-old baby girl who has been outside in a white plastic bag for three nights.
After calling 911, they cleaned up the child who was wearing clothing and a soiled diaper. Police say she had a rash over parts of her body, but showed no signs of other physical abuse.
"Her legs were just dangling in the bag. Her head was in the bag. Her whole head was covered all the way down," Kayla Seals told Elmira television station WENY.
The baby was immediately taken to hospital in stable condition Wednesday and the 17-year-old mother, Harriette Hoyt, was arrested for attempted murder.
Chemung County District Attorney Weeden Wetmore said Hoyt came to visit a friend Saturday morning and left the infant in the bag under some bushes around noon.
During interviews Hoy was identified by neighborhood residents as the baby's mother. Her public defender wasn't available for comment. Weeden said Hoyt had no prior criminal history.
Thankfully the baby is in stable condition and may be released to social services officials this week.
Elmira police Sgt. William Solt called the two women "heroes."
"My sister came out off the porch and went to the side to the backyard of my neighbor's house with a stick, thinking it was a dog," Karen Seals said.
Hoyt was being held on $250,000 bail and is expected back in court Monday.
A couple weeks ago a set of twins was discovered abandoned by a passerby.
Scientists Take a Closer Look at the Way a Mom's Brain Responds to Her Baby's Cry
---
[ad]