With her husband Rene and oldest son by her side, Céline Dion showed off her 4-month-old twins as she returned yesterday to Las Vegas to start rehearsals for her new show.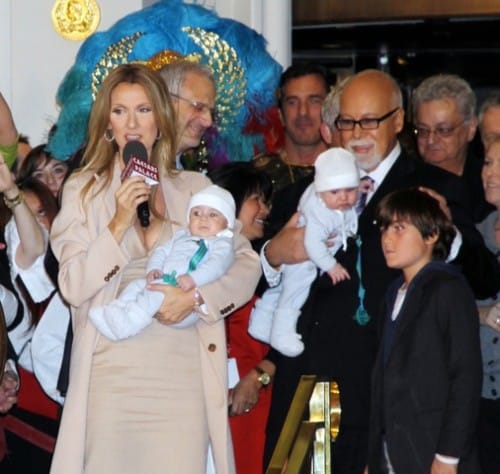 The singer was overwhelmed by the welcome she received at Caesar's Palace saying,
"We were driving up here on the strip, seeing the pictures and the Welcome Celine (sign), and I was like, 'Oh my God.'"  "I just want you to know that I'm more than happy to come back here. I feel wanted and loved, and there is nothing better than that. I'm looking forward to show you the new show. It's gonna be an amazing show … I will do my best to not disappoint you. Thanks for supporting another new day. I love you guys, thank you so much."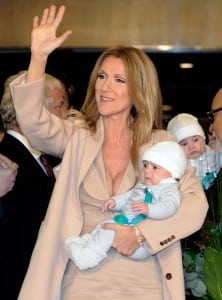 Almost 4 years ago Céline wrapped a five year run at Caesars, which grossed $400 million and was seen by nearly 3 million people. Under her new contract she will perform 70 shows a year for the next 3 years.
Thrilled to be back, she told the crowd,
"Having been here at the Colosseum for five years was a thrill," Dion said at Caesars Wednesday night. "It was an experience I will never forget … We are fortunate, very fortunate. My dear son, Rene-Charles, is now 10 years of age. And he moved to Las Vegas when he was a month old, so he spent most of his life in Las Vegas. It's been nothing less than a dream. I want to thank everyone in Vegas for letting me have the greatest time on stage, and letting us have a great time as a family."
The new show is set to debut March 15 at The Colosseum at Caesars Palace.
---
Related Articles:
{FAME}
---