It is already well established that dogs are truly loyal creatures and man's best friend. They are incredibly intuitive and majestic creatures. But one North Dakota family credits the family dog with saving their three year-old's life.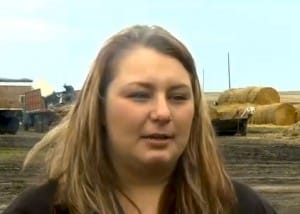 Courtney Urness of Cooperstown, North Dakota, often has her hands full on the family's farm. With three year-old son Carson and three year-old Cooper, a golden retriever/german shepherd mix, it is rarely ever quiet on the farm. So it was clear that something was terribly wrong when all she heard was silence on Monday evening. Both the child and the dog had went missing. Urness did what any worried mother would do and called for help.
Over two hundred volunteers, some from over twenty miles away from the family's farm showed up to help out with the search for the missing pooch and toddler. Sheriff Robert Hook said "ATVs, horses and more footwalkers showed up. Even the neighbors, business owners and bankers. They just came out and thought they needed to help." Volunteers were able to cover over 2,000 acres of land, with horses taking to the pastures to search, bloodhound dogs were brought in to assist, and a FLIR device was used to try and pick up the child's heat signature, all while aircraft searched overhead. But still, there was no sign of the child or the dog. Soon, day turned into night and Hook had to send the volunteers home, saying,
"As the night went on, there got to be a little more moisture in the air and at about 2:00 in the morning the rain was coming down and we were at the point to send the footwalkers home. There was nothing more for them to do."
Dad Brock and mom Courtney were heartbroken at the thought of abandoning the search. But one volunteer decided to ride his ATV over a hill and do another search. That is when he found Carson and Cooper.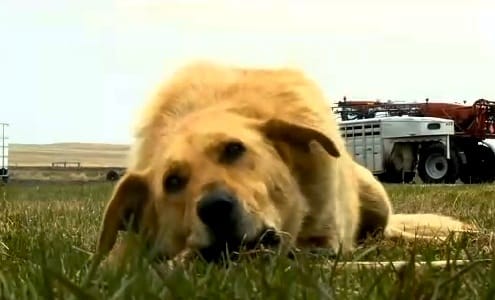 A teary-eyed Courtney recalls,
"Pat (one volunteer) went over the hill and shot his headlights and Cooper stood up just enough to let him know he was there."
The boy and the dog were only a mile from their home.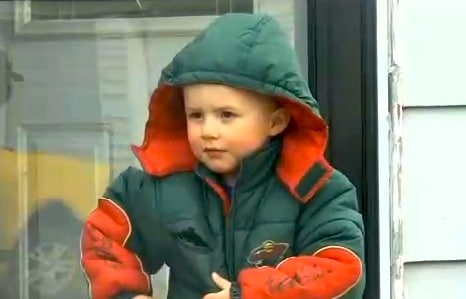 While search crews searched all around them, Cooper made sure to keep Carson safe and warm, lying on top of the toddler until volunteers found them. Carson rode back to the family's farm on an ATV, while Cooper followed the vehicle back to the house. Hook said, "The dog and him are buddies, they got themselves in a little bit of trouble last night."
Little Carson came away from the ordeal relatively unscathed, except for a small case of cold feet, according to an emergency room physician. His parents believe that he probably wandered away from the farm while he was outside playing with Cooper.
---
[ad]