When Erika and Stephen Jones' baby was diagnosed with brain cancer, the couple was told to prepare for the worst. Instead they pushed for more, and now their baby is expected to make a full recovery!
During her 30 week ultrasound, doctors spotted something unusual on Erika Jones's baby's brain. After it turned out to be a tumor, doctors weren't hopeful the baby would survive.
"The doctor prepared us that this was really bad," Jones told ABC News. "The prognosis was very poor."
Erika, a nurse who works in neurology, said she knew enough to know this was "devastating."
Diagnosed with Down Syndrome at 18 weeks, her unborn baby's brain was normal during the 26 week ultrasound. But that all changed in just 4 short weeks when the portion of her brain that was affected appeared "massive."
After Abigail was born, doctors told the couple chemo would likely kill her and that an operation on the tumor would not prevent it from growing back.
"The risk of operating was greater than the benefit," Erika wrote on her Facebook page.   "Treatment basically wouldn't effect the outcome (meaning they thought she'd die anyway).  She was never officially diagnosed with anything because it was not biopsied due to high risk of surgery. They told us that this was one of 3 types of tumor, all aggressive, cancerous, and fatal."
With few choices, the Jones' decided to take Abigail home with pediatric hospice.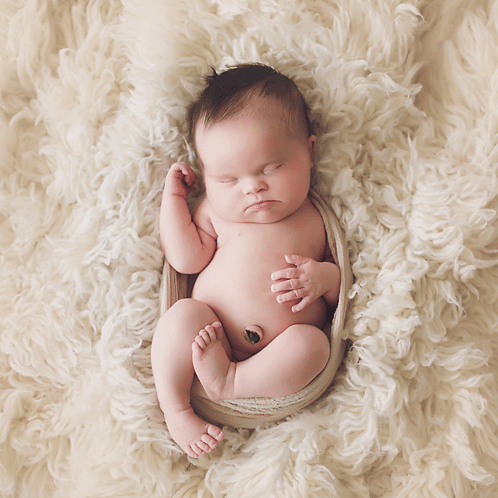 The couple, however, refused to give up and looked to Boston Children's Hospital for a second opinion.
"The family was sent home from the hospital in Florida having been given a death sentence for Abigail," Dr. Alan R. Cohen, neurosurgeon-in-chief at Boston Children's Hospital, ABC News. "They [the Jones family] contacted Boston Children's Hospital and Mark Kieran, chief of neuro-oncology, and I reviewed the MRI and thought the tumor actually might not be malignant. I spoke to mom on the phone and told her that I thought there was enough question about the diagnosis that we should not give Abigail a death sentence."
Last week, the Jones family traveled to Boston. "We repeated an MRI, which again made me suspicious that the tumor was not, in fact, malignant. We operated on Abigail through a left frontoparietal craniotomy and removed the tumor, which, in fact, was benign."
What's even more amazing is that doctors don't believe the tumor will return.
Overcome with joy, Erika expressed her gratitude,
"Such an incredible, surreal feeling walking out of the hospital with Abigail. Bottling that up and carrying it with me forever. So very thankful. Prayers to the children and families still there. We have a follow up MRI on Thursday and flying back to Jacksonville Sarurday morning. Can't wait for the Abigail and Audrey reunion!"
---
[ad]