Former Cincinatti Bengals tackle Devon Still had a huge reason to be especially grateful this Thanksgiving. After a devastating cancer diagnosis for his now-5-year-old daughter Leah almost 18 months ago, Still announced on Instagram on Wednesday that he had gotten a phone call from Leah's doctors saying that her most recent scans showed "no evidence of the disease."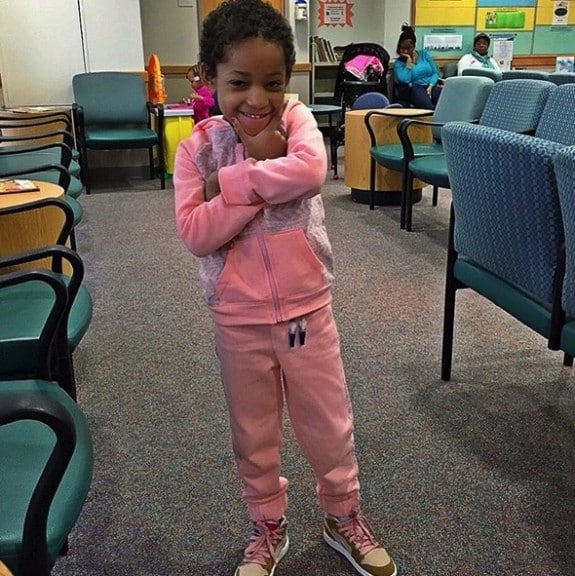 Leah was diagnosed with Stage-4 neuroblastoma in June 2014 and given only a 50/50 chance of survival. To make matters more complicated, Devon was cut by the Bengals, but got a reprieve when the team assigned him to their practice squad and then reinstated him onto the team roster for the remainder of the season – vital in allowing him to retain needed medical insurance coverage for his child. And the Bengals organization did more: donating their profits from sales of Devon's jersey to the Cincinatti Children's Hospital to help in their fight against pediatric cancer.
Even as this child fought for her life, she and her dad made a great effort to do everything possible to raise awareness and funds for cancer-related causes, and to serve as inspiration for others affected by the disease.
TODAY Show host Hoda Kotb – herself a cancer survivor – produced a video starring Sara Bareillies and Cyndi Lauper called "Truly Brave" that featured Leah. Then Kotb linked the video to her Crowdrise page, eventually raising more than $500,000 for the American Cancer Society's pediatric cancer research. On the day the video was released, Leah endured 6 hours of surgery to remove a tumor and all of her lymph nodes. More battles were ahead for the little girl when the cancer spread to her bones. But Leah and dad Devon continued to fight, and to spread their message of hope.
While continuing treatments, Leah and Devon wrote a motivational book for kids with cancer called I Am Leah Strong and in February Leah was on the runway at NY Fashion Week with Nike Levi's Kids Fashion Show. By March, it seemed the worst might be over but in May Leah suffered a serious complication related to a stem-cell transplant. The pair shared an ESPY award for perseverance this past July, and celebrated Leah's image on the iconic Wheaties boxes in August.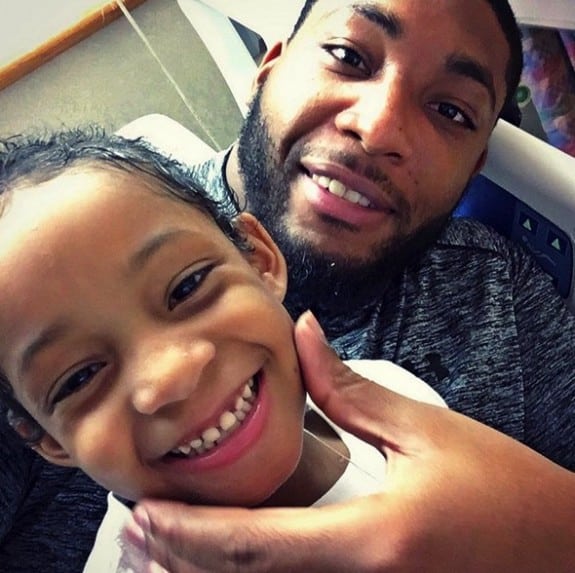 Friend and supporter Hoda visited Leah in September and acted as the child's assistant at a makeshift lemonade stand in the lobby of her apartment building. And after missing the fun the previous year due to her cancer, Halloween brought an especially sweet treat for the little girl, doing her trick or treating dressed as Cinderella, with dad tagging along as Prince Phillip.
Devon's Thanksgiving post expresses relief and gratitude simply and sincerely, "Thank you all for the support and prayers."
---
[ad]