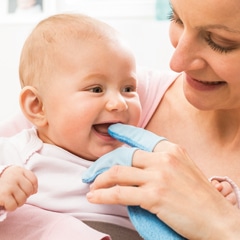 It is often believed that baby teeth don't need as much care because they are quickly replaced by permanent teeth as your child gets older. The truth is that parents should be cleaning their baby's mouth long before their teeth even appear to prevent plaque from building up.
When your child's teeth start to come in you should switch to a brush to clean all surfaces of their teeth, including the gums.
Gum care, early brushing and teething are just a few of the issues that parents come up against in the first months.  But with the right tools you can sail through this stressful stage.
We have rounded up some of our favorite teething and oral care products from MAM.  One of our favorite companies, MAM offers parents options that can be used shortly after birth.  They have a large selection of teething products that are created with a variety of textures to help soothe your baby's gums as their teeth are coming in.
As we quickly find out, rarely is one product the silver bullet when our babies are in pain.  For this reason it's nice to have a few options to offer your child.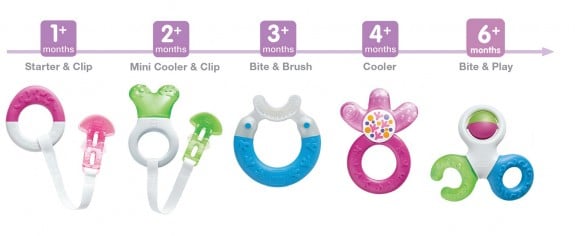 For a list of our favorites, and their features, please check out the video below:
---
[ad]