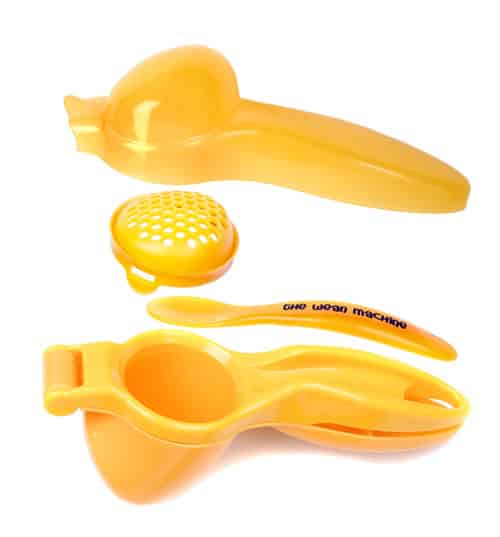 Our transition from exclusive breast milk to baby foods has been rocky. My little one seems to want skip the pureed portion of his journey and head straight to hamburgers.
After weeks of trying to get him to eat baby food, I have given up and have started to mush stuff that we are eating.
Recently, I was introduced to the Wean Machine. This compact, portable gem is the best way I have found to 'smush' foods quickly.
It's all in one design makes it the perfect on-the-go feeding product while out for dinner or out at a grandma and grandpa's house.
To get started all you need to do is pop a few pieces of ripe fruit or well cooked vegetables into it's hopper and squish.
The unit comes with 2 different grills. One with small hole for infants just being introduced to solids and a second with bigger holes for older babies who can chew.
For our first try, I popped a banana in and squished. The pieces came through like playdoh, but were easily blended. This is our favorite fruit to use with The Wean Machine.

Our second test was a ripe peach. When pressed, the wean machine squished the juice out first and then the fruit. For a less 'juicy' serving pour the juice out before it starts to press the fruit.

We then moved onto cauliflower. The crowns were boiled in a pot for 14 minutes, cooled for a bit and then pressed. The result was a grainy cauliflower, which the baby was fond of.

Our last veggie in the test was carrots. They were boiled on med. for 16 minutes, which may have not been long enough because after we pressed them, I noticed a lot of un-smushed carrot underneath the grill. The veg I managed to get out was good as you can see from the picture. I just wish the grill was able to reach further into the hopper to make better use of all of the food you put inside.

While I understand that most of what this machine does could be done with a fork, the nice part about The Wean Machine is that once the food is squished, you can feed your baby directly from the hopper, eliminating the need to find a plate or bowl.
This makes it ideal for feedings where you have limited access to these convenience items, like the airport.
Suggestions:
Steamed veggies are better than boiled because they have less water in them
Ideal fruit/vegetables:

potatoes (sweet and regular)
carrots
squash
avocado
bananas
peaches
strawberries
cooked pears/apples
Fruit we didn't have very good luck with:
What I like:
Easy to clean
Self contained – All of the attachments have a spot allowing the whole unit to be
Top shelf dishwasher safe
BPA, Phthalate and PVC Free
Available for $23.95 @Amazon.com
---