Now that Christmas has come and gone, I need some storage solutions for all of these toys we now have sitting all over our house.
I thought I was already organized, but it seems that I need to re-evaluate our use of space with #2 and all of their stuff on the way!
Here are some toy storage solutions I found while looking for ways to get our house back on track:
Pottery Barn Dollhouse Bookcase – If I had a little girl, this bookcase would be on order.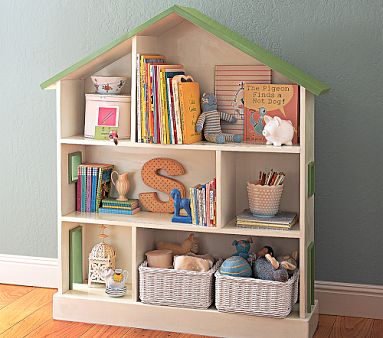 I love that it allows you to use baskets for small stuff while giving you room to store the millions of books that kids acquire throughout their childhood. Not to mention that it resembles every girl's favorite toy – their doll house!
Assembly required. 45 x 12 x 51″ h. Internet exclusive. $399
 Ikea's Trofast – I LOVE this toy storage unit!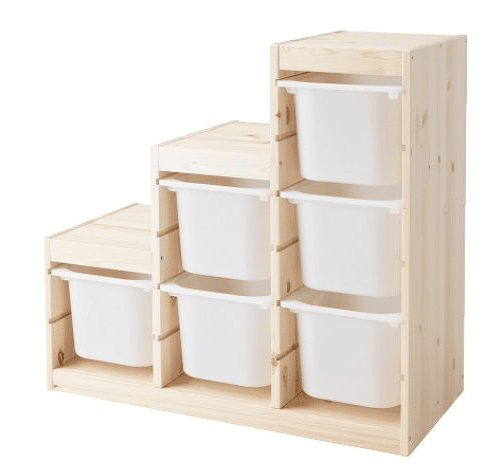 We have 2 of them and they are great. I like that you can mix storage bin sizes and that each 'step' can also be used to hold bigger toys that don't fit in the cubbies.
My husband hated putting it together because he said that none of the screwholes were where they were supposed to be, but after all was said and done it all worked out.
Parents who have a lot of toys to organize will like that they can add onto this unit and that it comes in many configurations. We just chose the basic 3 step model, but Ikea makes many different versions for large/small storage projects.
Priced from $61.99
Boon's Animal Bag – Our house is OVERRUN with stuffed animals and I don't know what to do with them all. Boon's animal bag gives kids a place to put them, while it doubles a place to relax.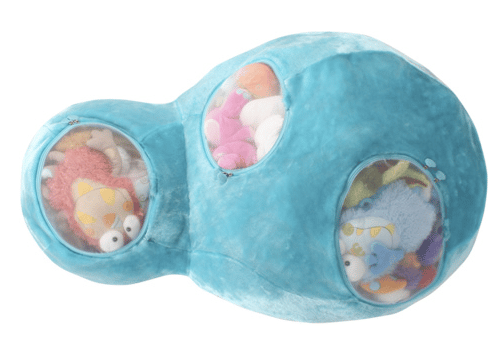 Available in 3 sizes, the animal bag is covered with large, zippered windows made out of transparent, durable mesh. Children can fill the bag with stuffed animals of all sizes, and then use the Animal Bag as a soft seat. Made from high quality, breathable fabrics, this fluffy Bag is machine washable, or it can be dry-cleaned.
Priced starting at $59.99
Via Toy Box Cubes – These 15″ cubes are made from sustainability grown baltic birch plywood and eco friendly paints and finishes. They are easy to assemble and can connect together in many different ways.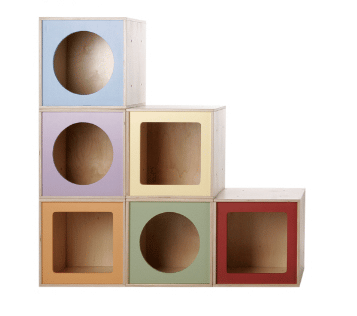 Like many of the other solutions I have found, parents can make their project as big or as small as they would like with these boxes. You can alternate the box fronts with doors or shapes to give your child's room a fun, playful look.
Priced from $59.99 each, with a discount as you buy more cubes.
Cubes offered in natural, white, with the choice of 48 different fronts.
Tetrad Shelving – This pricy piece of shelving may just be the coolest, most versatile piece.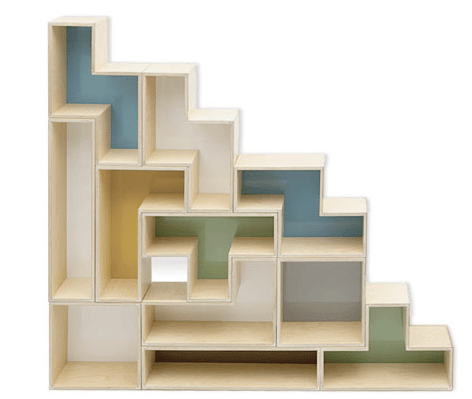 It features geometric shapes composed of four squares connected on at least one side. With wooden sides and a metal backing, the Tetrad Flat is a modular lightweight unit. Blocks can be attached to one another, to the wall, or left free floating for life-sized, living room game play. Choose from a variety of exterior and backing colors.
Each set includes 1 each of 5 shapes. Following are the measurements: square 1'6" x 1'6"; long rectangle 3 x 9"; T-shape 2'3" longest side x 1'6" height from bottom of T to top; L-shape 2'3" height x 1'16" wide; S-shape 2'3" height x 1'6" wide. The stacked shape measures 6' tall x 6'9" at base. The rectangular shape (in thumbnail picture) is 6' H x 3'9" W. Each shelf measures 9" deep.
$1,315.00
---
[ad]