Authorities and volunteers have continued the search of a wooded area where 2-year-old Noah Chamberlin went missing on January 14 while on a walk with his grandmother and 4-year-old sister. Noah's grandmother told police that she looked away from the toddler for a short time and turned back to find him gone.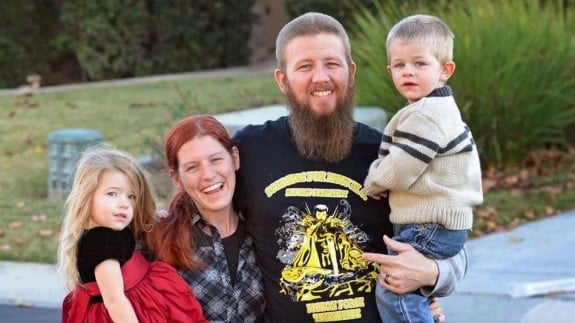 Now law officials say that they have found evidence of the missing child in the woods and they believe he may be nearby.
According to Madison County Sheriff John Mehr, some leads have been recovered, although the sheriff declined to say exactly what evidence has been found. Searchers have covered a large area near the woods, helping law enforcement comb an area of approximately 1000 acres. The volunteers were taken off the search area on Wednesday as a safety precaution due to deteriorating weather conditions. Authorities felt that the search area was becoming too muddy and treacherous, with cold temperatures overnight adding to the danger. The county is expecting between 1-4 inches of snow starting Thursday and continuing overnight.
Some equipment that was being used in the search may have to be redeployed due to the weather conditions, but Sheriff Mehr says that while the search may have to be scaled back, his team will continue to look for Noah.
"We're going to probably in the next few hours and days start scaling back," Mehr said. "With the weather that's coming in, supposedly, by Friday, we'll have to scale back the search."
The sheriff has rejected speculation that the family may be involved in the toddler's disappearance. The family's background has been thoroughly vetted and Mehr says they are "good citizens."
Collegues who work with Noah's father, Jacob, were disgusted at allegations surfacing on social media that the family could have had something to do with Noah's disappearance.
"Jacob is a very Christian young man. He's very inspirational as far as believing in the good Lord," Gary Rinks, who manages the truck fleet at Venture Express, told Channel 3 News.
When asked if he thought he would be capable of harming his child? by a reporter, Mr. Rinks replied without hesitation, "Under no circumstance. None whatsoever."
Jacob was reportedly in Canton, Mississippi when he got the news of Noah's disappearance and the boy's mom Destiny was at the store.
Noah is about 2 feet tall and weighs 25 pounds. He has blonde hair and blue eyes, and was wearing a long-sleeved gray shirt and blue jeans when he disappeared in the Tennessee woods behind his grandparents home on Short Road in Pinson. Anyone who has seen the child is asked to call the Chester County Sheriff's Office at 731-989-2787 or the TBI at 1-800-TBI-FIND.
---
[ad]