A Utah woman has shocked and rattled the quiet town of Pleasant Grove. 39 year-old Megan Huntsman was arrested on Sunday, April 13th and charged with the murders of her infant children, which were born between 1996 and 2006. Authorities believe that between the ten year time-span, Huntsman gave birth to a total of seven children, at least six of whom were born alive. It is believed that one child was stillborn, but the others were born alive, and then subsequently murdered by the Utahn.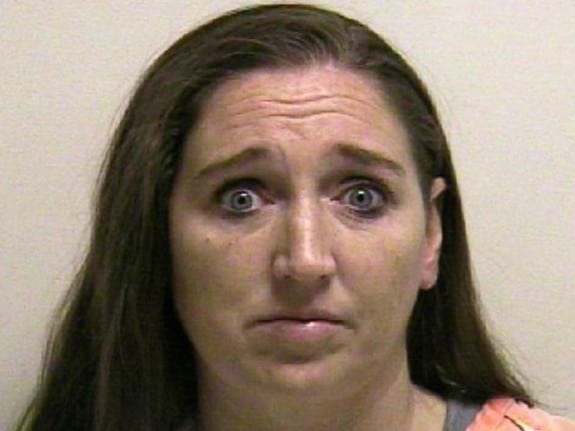 Huntsman's crimes came to light this past weekend, when her ex-husband, Darren West, along with other family members were cleaning out the garage of the home Huntsman had resided in until 2011, which was owned an overseen by West's parents.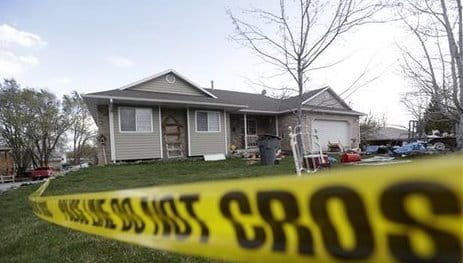 Pleasant Grove Police Department Capt. Michael Roberts details the discovery,
"They came across a suspicious package that had kind of a pungent odor. They started to open the package and realized that there was a deceased infant inside the box, (and) called the police." Roberts was distraught over the crime, adding "It's unfathomable, I can't even imagine what's going through somebody's head to do that."
Huntsman was currently residing in West Valley, where she was arrested by authorities. It was then that she admitted to her grisly crimes. A probable cause statement reads,
"During her interview, Ms. Huntsman admitted that between 1996 and 2006, she gave birth to at least seven babies at the Pleasant Grove residence, and that all of the babies, but one, were born alive, and that she either strangled them or suffocated the babies immediately after they were born. According to Ms. Huntsman, she then concealed the bodies inside boxes and placed them inside the garage of the Pleasant Grove residence. Each baby was found wrapped in either a towel or a shirt inside of a plastic bag, and each was contained in a separate cardboard box."
Each infant was in a different stage of decomposition, according to authorities.
Huntsman was booked into the Utah County Jail, where she currently is facing six counts of murder. Authorities explained that there are only six counts of murder because they believe that one of the seven children born had been a stillbirth. Early Monday morning, Huntsman appeared before a judge who set the bail at $1 million for each count of murder that she faces, for a total of $6 million bail. Huntsman had no prior criminal record other than a traffic citation in 2011. Kathie Hawker, and her husband, Aaron had previously been Huntsman's neighbors during her stay in Pleasant Grove. Both have known Huntsman and her family for over fifteen years. Aaron Hawker told news crews they were shocked when they found out.
"They've always been really good neighbors, she always seemed like a good mom, a good wife…This came as a shock both to (my wife) and I because we always thought she looked skinny. We never saw any evidence of pregnancies." Kathy Hawker adds "She was always a good babysitter because she baby-sat my grandchildren when they were little…She was the one we could always count on to do the job right."
Many other neighbors say that they had never thought Huntsman was pregnant, because she had often worn baggy clothes. However, another next-door neighbor, SanDee Wall says "I would maybe see her walk up the driveway or out on the back deck and I'd go, 'Is Megan pregnant?'" Others keep Huntsman's children in their thoughts, but also wonder about her adolescent daughter, who would have been born during the time period of the other infant's murders, thus raising even more questions on why this one child may have lived while the others were murdered.
Huntsman has told authorities that she believes West is the father of the infants, although DNA tests will be done to determine if she is telling the truth. West had recently served nine consecutive years in federal prison on drug charges. Huntsman says that the infants were born and subsequently murdered during a time when West was not imprisoned. The estranged couple has three daughters together, ages 13, 18 and 20. West is not currently a suspect, according to authorities, who added,
"He has been cooperative, but we continue to investigate what type of knowledge or role he may have played, if any."
A search executed by detectives of Huntsman's current home turned up no evidence. Pleasant Grove Police Lt. Britt Smith talks about how hard this case is on everyone involved,
"I don't think there's any motive that will really explain it in a way that will make any of us understand why. We've held our own babies. It's difficult."
The Pleasant Grove officers working the case have access to grief counseling, which Smith says many could make the choice to use after being involved with a case that uncovered something so horrific. Detective Dan Beckstrom says "I've never seen anything like this in my career. This isn't something that we ever expect to deal with."
West's family had also released a statement following the gruesome discoveries,
"It is hard to express with words, the emotions surrounding our family at this time. Saturday's events have left us in a state of shock and confusion. We are mourning this tragic loss of life and we are trying to stay strong and help each other through this awful event. We respectfully ask for privacy and decline further comment at this time."
Currently, Huntsman is under 24 hour suicide watch in the Utah County Jail. She is scheduled to go before a judge on April 21st.
---
[ad]